You fell in love with its charm, but over time the years have taken their toll. While remodeling your older or historic home was once an option; now it is a must. We know first hand, remodeling an older home can be extremely rewarding or extremely stressful. It's not a question of if you will encounter obstacles, but when. That is why at Sharrett Construction, we want you to be prepared when you start to remodel your older home.
Common problems when remodeling an older home:
Lead Paint
Any house built prior to 1976 is likely to contain lead paint. Although undisturbed lead paint is not a risk, a health risk arises when the paint begins to peel or chip. You can test for lead paint yourself; kits are available in most home improvement stores. The Environmental Protection Agency (EPA) also has tips available online before you or a contractor begins work. We recommend using lead-safe practices when working on a house that is at least several decades old to minimize contamination risk. With this in mind, employees at Sharrett Construction have been fully trained and certified in dealing with projects that contain lead paint to ensure the safety of our customers.
Asbestos 
Used extensively in older homes, especially between 1940 and 1980, asbestos might be found in pipe work, flooring, insulation,popcorn ceilings, and even spackling compounds. Asbestos breaks down if surfaces containing it are sawed, scraped, or sanded. If you think asbestos may be present, we strongly recommend hiring the services of a professional, licensed contractor.
Old wiring and plumbing
One of the most widespread issues when remodeling an older home is old wiring and plumbing. Prior to the 1960s, galvanized pipes were used often. Over time, these pipes corrode or become more vulnerable to clogs. We recommend removing galvanized pipes and replacing them with PVC or copper. Additionally, old electrical wiring can be a major safety hazard, while also proving incapable of supporting many of the modern appliances and technology that have become popular today. Outlets and switches may also be found to be outdated. Rewiring a home can be a big task and should be handled by a professional to minimize risks.
Homes Built Before Current Code
Building codes govern a wide variety of aspects of home construction and remodeling. As with most things, these codes
undergo updates and changes throughout the years. When remodeling an older home, it is important to make all changes in compliance with the current building code—especially if you intend to sell the house in the future. Remodeling a home to be code compliant will protect your investment.  
Mold and Dry Rot
In Florida, damp and wet conditions are normal and they are perfect breeding grounds for mold. If you come across a surface that has been contaminated by toxic mold, it can be a health threat. Mold is most likely to grow where there has been a water leak; look for old water stains as possible warning signs. Remember, widespread contamination of mold should be treated by an expert. Make sure to remove all mold before continuing with a remodeling project; even dead spores can be hazardous.
Aged Masonry
Any house that is at least 50 years old is likely to have masonry problems. If remodeling a home of this age,  it will be likely that any brick masonry on the exterior walls or in the chimney will need to repointed and perhaps replaced.
Of course, any remodeling project is a major task but an older home has certain concerns and risks that are best handled by a professional. Therefore, it is vital to work with a licensed and insured general contractor like Sharrett Construction. We can handle the entire job for you, from start to finish. Sharrett Construction is experienced in remodeling older homes and can update your historic home while still maintaining its charm through features such as chandeliers, classic doorknobs, and claw foot tubs—which only will seem more appealing after adding modern features such as granite countertops and up-to-date appliances.
If you have questions about your current remodeling project or would like to schedule a consultation with Sharrett Construction for a future project, contact our office in (863) 840-9781.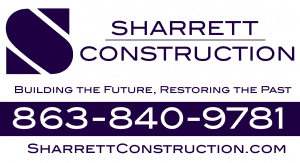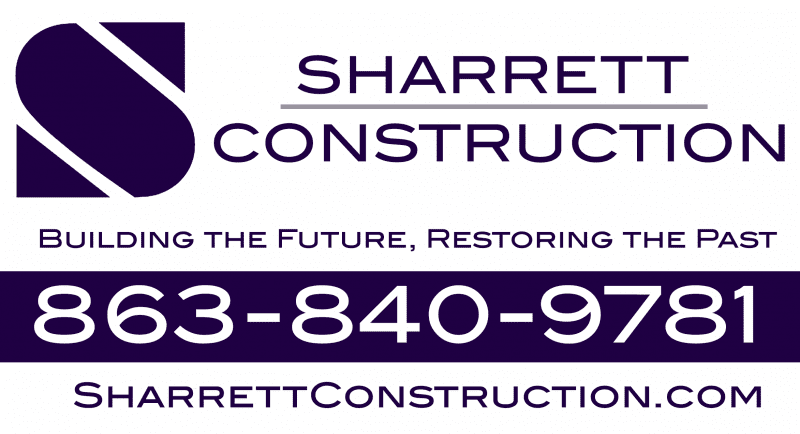 Fully licensed and insured, Sharrett Construction is proud to fulfill the construction needs of clients in the Lakeland, Tampa and Orlando Florida areas.